Toyota Auto Care
Auto Care For Your Pre-Owned Toyota!
At Carson City Toyota we know how important peace of mind is when purchasing a pre-owned vehicle. That is why we are pleased to announce the complimentary 1 year or 15,000 mile inlcuded Toyota Auto Care Prepaid Maintenance Program! Having your vehicle perform at it's best is very important so knowing that one of our skilled trained technicians will be taking care of it gives you the peace of mind you need.
Convenience
You will receive a prepaid maintenance package that fits conveniently in your glove compartment. When you take your vehicle in for its scheduled service, simply present your Classice coverage service certificate to your participating dealers service representative. Your Toyota-trained technician already knows what is covered under your plan, which can save you time whenever you bring your vehicle in for service.
Timed Reminders
Approximately 30 days prior to your scheduled service, you will receive a service reminder based on your individual driving characteristics.
Computerized Service History
At the end of the plan term, you will receive a Computerized Service History of the covered maintenance performed on your vehicle, which can help maximize your vehicle's resale value.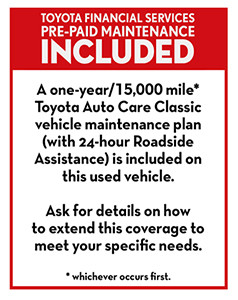 *Vehicle maintenance plan included in vehicle purchase price is cancellable but not refundable. Additional optional, cancellable (see agreement terms) long-term coverage is available for a fee and is not required to obtain credit. Fee for long-term coverage will be reduced by the value of the plan included in vehicle purchase price. See agreement for complete terms and conditions including non-coverage expenses and exclusions. Toyota Financial Services is a service mark used by Toyota Motor Insurance Services, Inc. and its subsidiaries. Excludes Diesel and Luxury vehicles.